Whats up!
Happy thanksgiving everyone! It has been almost a month since posting, I have been getting settled in but lets take a look at whats been done so far.
I moved into a 3 bedroom 2 bathroom house, its a very large place inside and has an over-sized 1 car garage. Fortunately, the Corrado is able to en-habit this parking space unless a current project does, in which case the Corrado can be parked at its previous parking location.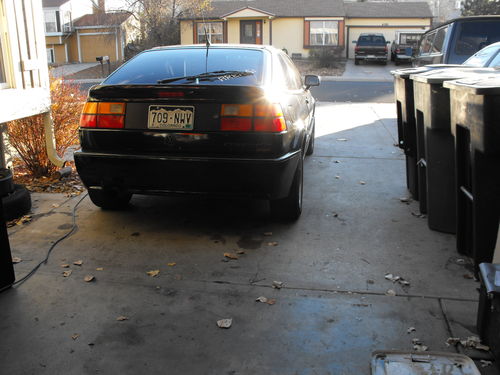 One thing that was hard about moving out was that I knew I wouldn't be able to bring the air compressor that I used with me, so I was forced to find an alternative. After doing some searching I found a friend that had one for sale. It is a 20 gallon twin cylinder compressor it's an older model but didn't seem used all that much. Since its a painters compressor its higher volume which is nice. The only downside was that it's 220 and I didn't have a 220 volt outlet in the garage. After making an offer on the air compressor I decided that the cost of installing 220volts in the house wouldn't matter so much.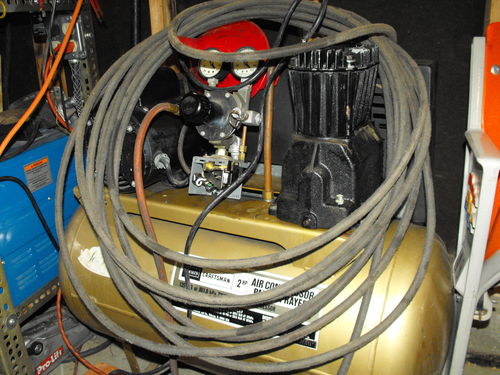 I placed a call to one of my best friends who owns Rad Electrical Services. (http://www.radelectricalservices.com/) I have known Randy and seen his work for years, I owe much of what I know about wiring a house to Randy he is a great guy. He is fully licensed and insured and I will always call him first when it comes to making electrical changes to my home. If anyone needs electrical work and you are in Colorado, I highly recommend him.
Since the garage only had 1 outlet in it on the same cirucuit as the outlets in the upper living room / kitchen we decided to install a full sub panel so we had a 110 outlet with 20 amp service. This also left room for future expansion if we ever wanted to add more outlets: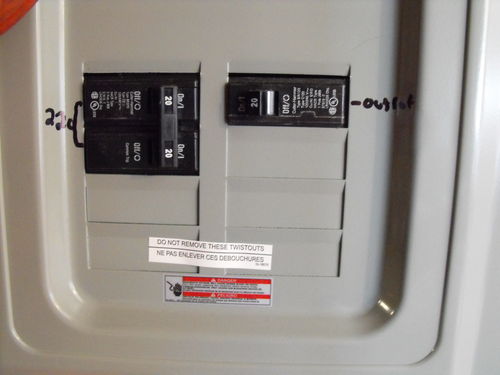 The garage is finally setup and I'm ready to get some work done, actually I have already but we'll get to that in a minute. Here is the workbench / toolbox area: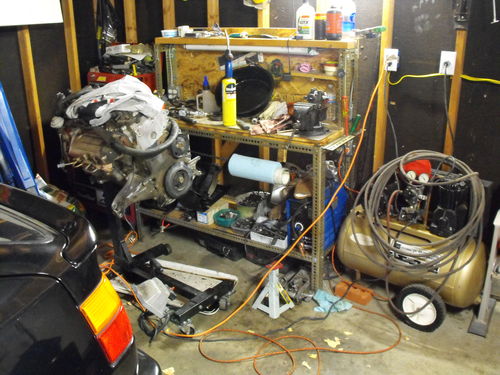 Something I have been waiting for as far as moving out goes is the opportunity to put my nice speakers and stereo to good use for parties. Instead of the once a year when the parents are out of town I get a chance to listen to this awesome stereo all the time in whatever volume I want. (except the first night when the cops came over lol) I have this really nice stereo receiver that is a bit of a family heirloom. Its a Technics receiver my Dad purchased new in 1978, model SA-300. After the receiver was retried from my dad's use and given to me I have used it off and on. I loaned it to a friend for a while, it has bumped many speakers and it was time to dust it off after sitting under my worktable for almost 2 years. She needed a tuneup, it sounded scratchy and it was very dirty. All the light-bulbs were burnt out so I decided to do a little bit of a restoration: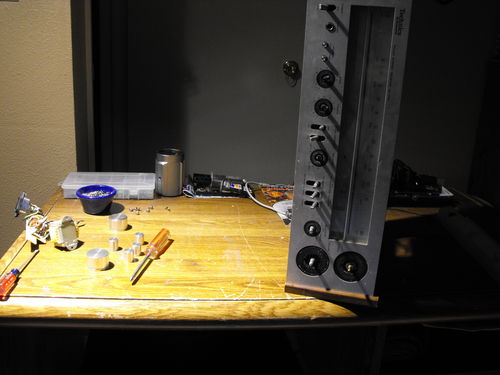 After using some contact cleaner on some parts and disassembling and wiping the front panel it was time to look into the lights. I actually wanted to change the lights to LED's, the reduced current draw and lower heat dissipation made them good candidates, as well as the chosen color:
They could be brighter but when its a little darker outside / in the room it looks great: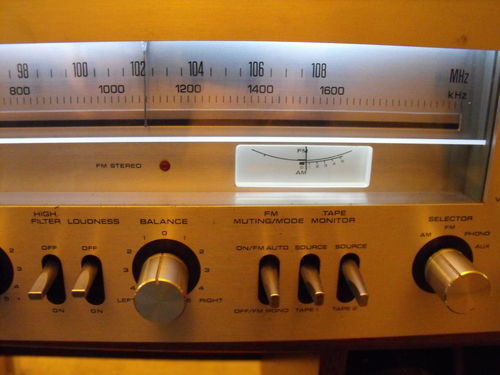 I have also been replacing capacitors, there is a bit of an odd heat issue on a big resistor I am looking into. It needs a little work, but after replacing all the caps I have so far it sounds better than it ever has, and its only going to get better. I will be doing some more work on it within the next couple of weeks so expect to see more on this guy. Here it is on top of my Cerwin Vega speakers (15 inch drivers):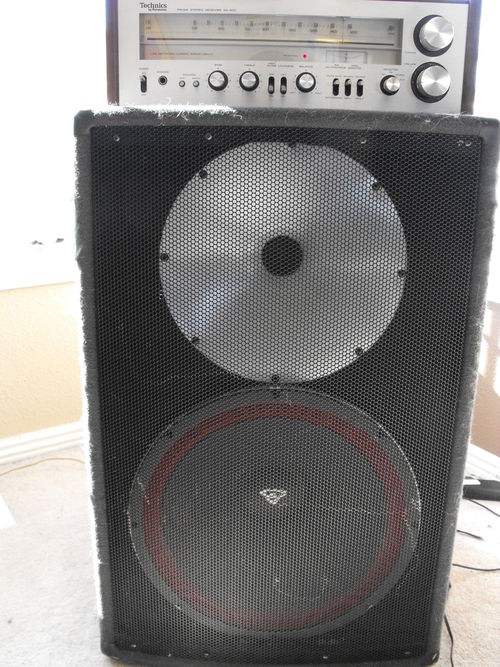 I also picked up a VR6 parts engine, the number 4 rod was completely torched, the bearing shell was completely MISSING! After looking at the bearing next to it there is no copper center but instead like its made of nothing but Babbitt material. I plan on disassembling the motor here soon, and will post pictures of what everything looks like. The autopsy of that one is going to be most interesting.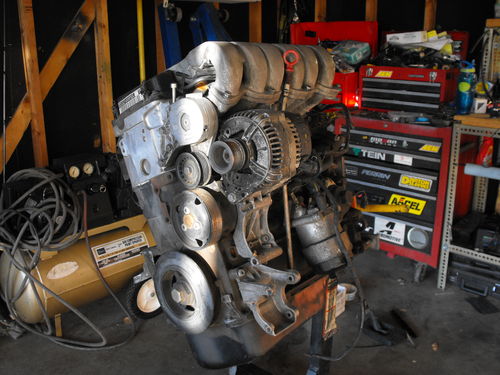 Its got a new timing chain and guide set, the engine was never ran with this stuff so this right here is worth the $100 I paid for the engine anyways: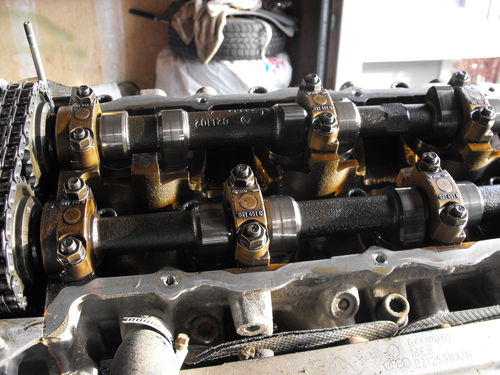 The server went through a few revisions in the move as well. Its now the main box for the Camera system for the house. I installed a video capture card and hooked the 3 cameras installed in the house into the back of the server. I used a free piece of security software called ZoneMinder that works via the Apache web server to collect and archive footage. http://www.zoneminder.com/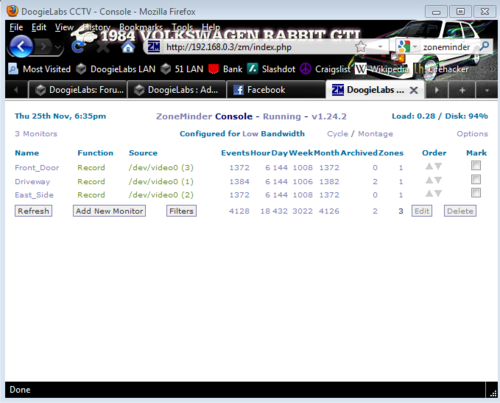 Its compatible with just about any camera you can hook into a computer, it will even grab the web page feeds from the IP network cameras you can get on eBay these days. As a matter of fact, I am going to move away from the video capture card and old CCTV style into these Wireless IP network cams, they seem so much easier to setup and work with versus running a whole bunch of cable. Then you don't have to worry about signal degradation and all of that nonsense because the image has already been processed and digitized to be put on a web page. It does everything including motion detection and text message / email notification if an alarm is triggered. Motion detection doesn't work on my CCTV style cameras that use coax cable because there is noise in the picture and it will always cause the alarm to trigger no matter the setting, so I just set them to record continuously which seems to work well. You can view your cams either in a cycle or montage, here is the montage mode (although I prefer the cycle myself):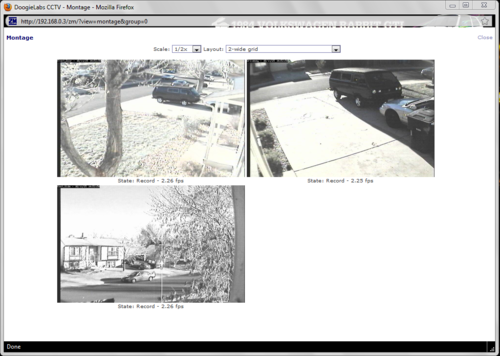 The events database is really nice, if you find an event that you want to keep you can "archive" it so it doesn't get marked for deletion. You can easily rename them as well so that way they don't get lost in with the others. Everything is easily configurable: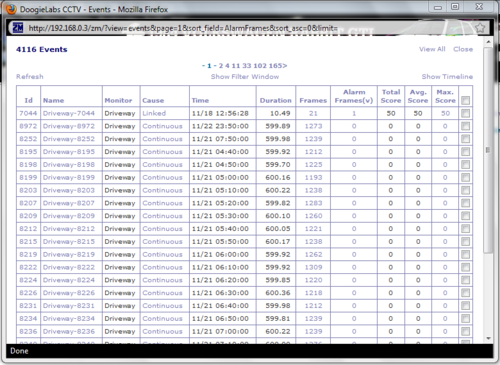 Its a great system and has proved reliable in the short time I have used it. I plan on adding 3 more cameras or so, one in the garage, one street side, and one in the back yard. I have been thinking about exporting the feed to there can be a doogielabs garagecam page to see the progress of the Corrado unfold in realtime. With the 3 camera feeds a 320gb hard drive will hold around 10 days worth of footage, not bad. I have it setup to fill the hard drive and maintain that 10 day video buffer and delete the oldest ones first to make room for the new. As you can see there isn't really a sacrifice in image quality things seem to be of decent quality: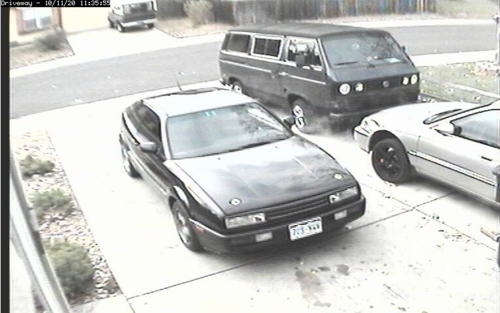 I'm thinking about creating a page on what it would take to setup this kind of security system. Remember, zoneminder is 100% free so you don't have to pay for it, it only costs you as much as it costs in the hardware you need to get setup. In my case this cost me nothing because my server was 100% free. My buddy had pre-purchased the cameras. The most ideal setup would be a Linux server, wireless router, and wireless IP cameras. That would make a great DIY CCTV system, hmmm.
Sorry it took so long to get a post up here, at least now that I'm setup in the new place I can document more of what I'm doing and in greater detail. I hope everyone has a great thanksgiving and I will see you here again next week!