Sun server vs other servers:
| Hostname: | Make & Model | CPU Type | RAM Size | Total Storage: | Operating System | Years in service: |
| --- | --- | --- | --- | --- | --- | --- |
| Calculon | Custom Server | Dual X5675 | 96GB | 32.5TB | Debian Stretch X64 | 10/19/2018 - Present |
| Alexandria | IBM X3550 M2 | 12x 2.67GHz Xeon X5650 | 24GB | 19.75TB | Debian Stretch X64 | 7/15/2017 - 10/19/2018 |
| Fookushima | Apple G5 Quad | 4x 2.5GHz PPC 970 | 16GB | 4.25TB+ | Debian Wheezy PPC | 4/5/2015 - 7/15/17 |
| POWERtower | Apple PowerMac G5 | 2x 2.0GHz PowerPC 970 | 5GB | ~3.8T | Debian Wheezy PPC | 06/2014 - 4/5/2015 |
| Icebox | Sun Microsystems SunFire V880 | 8x 1.2GHz Ultrasparc IIIcu, Sparc 64 v9 | 32G | 6.2T | Oracle Solaris 10 | 11/2011 - 06/2014 |
| Powerhouse | Dell Precision | 2x 2.8 Ghz Xeon / 2Mb. (Similar to Northwood P4) w/ hyperthreading EM-64T | 2.5G | 1.1T | Open SuSE 11.1 | 4/2010 - 11/2011 |
| Bookshelf | Dell Optiplex GX620 | 1x 3.2GHz P4 Northwood / 1MB W/ Hyperthreading | 2G | 500GB | Open SuSE 10.0 | 5/2007 - 4/2010 |
| Icebox | DEC AlphaServer 2100 4/275 | 4x 275MHz 64 Bit Alpha EV6 4Mb | 1.2G | 300GB | RedHat Linux 7.2 for Alpha | 2/2005 - 5/2007 |
| Sparcy | Sun Microsystems SparcServer 1000 | 8x 90Mhz HyperSPARC / 1Mb | 2GB | 120GB | Sun Solaris 9 | 7/2003 - 2/2005 |
| Savage | Custom Built using Dual Socket 8 | 2x Pentium Pro 200MHz /1Mb L2 | 768Mb | 80GB | SuSE Linux 7.2 | 3/2001 - 7/2003 |
| | | | | | | |

Basic System Architecture & Specifications:
8x 1.2 GHz Ultrasparc iiicu, 32+64K L1 Cache, (29 Million Transistors packed into a 1368pin Flip Chip ceramic LGA Package, Includes On-die thermocouple & Integrated memory controller.) @ 80 Watts each
8MB of External Level 2 Cache, w/ Dedicated 32 Byte-width bus
32GB RAM (64GB Max) @ 2.4GigaBytes / second per CPU Board using 64 512MB Sticks @ 150MHz. (16 per CPU Board, 8 per CPU, 4 per Bank.)
Fireplane Interconnect (Backplane) , 9.6GigaBytes/ second between CPU Boards via two 32 Byte wide 4.6GB data buses.
2x 1Gbit Fibre Channel drive controllers to disk backplane for disk multipathing.
33 and 66MHz 64bit PCI (PCI-X)
Originally Introduced in November of 2001, EOL was December 2005
2x SATA Hotswap Drive Bays
4 Port Sparc Compatible SATA controller, located in 66MHz PCI-X Slot
Sun XVR-1200 3D Graphics Accelerator
Creative Labs SoundBlaster Audigy2
Happy Meal dual Gigabit Ethernet / dual Ultrawide SCSI controller
2x Sun PCI-IIIpro 733MHz Celeron PC interface cards
Onboard 10/100 ethernet and 1000base SX Fiber (can only use one at a time)
USB & Firewire Expansion card normally found in SunBlade 2500
How it Began:
I realized that I never actually created a page for the server itself showcasing the powerhouse of a previous internet generation. . So here goes 😉 In late 2011 I had issues with my current web server at the time, a Dell Precision workstation. I had a brownout at my house and it ended up blowing all the capacitors in the entire thing. (Blogpost on this here) As luck would have it, this server replaced the previous server from capacitor issues just a year prior.. (blogpost on that here LOL ) So needless to say when I was crippled a year later by a similar failure on a different computer I decided to stop messing around and find some good hardware. I scoured eBay for various servers, thoroughly researching the RAM, Cache, Speed, and power demands of each one. I needed something that was capable of taking a failure of any kind, maybe even multiple failures and still have access to my data. I really wanted the HP 9000 Server I was looking at, rp7420 with 8x dual core pa8900 PA-RISC CPUs, each CPU has 64Mb of Cache. It didn't really seem to offer the storage I was after however, and required 220v power. This was most of the deciding factor in my choice, was knowing that one day I would probably need to plug it in at home somewhere and 220v isn't exactly easily accessible at most homes. (That will change as electric cars become mainstream however 🙂 ) After turning away from the HPs I started to look an old friend, Sun. . The very first versions of my websites were hosted at one point on my SparcServer 1000, which had 8x SuperSparc 90MHz CPUs . It was a really neat machine. It had probably 4Gigs of ram and it was all in 30 pin SIMMs which is really silly. I knew that the market at the time was flooded with Sun stuff, and not being X86 nobody really cares about the Sparc machines. They are a dime a dozen at the recycler now, because nobody knows how to use them. Solaris 10 is still supported by Oracle, albeit not for long. . Firefox and Thunderbird have current releases for Solaris 10 Sparc, and there are a whole host of packages that one can obtain. Because it's Solaris 10, and almost nobody uses it anymore, it's a little bit of security by obscurity. A conscious approach to setting up security on a Solaris 10 box, and only the wiser would know where to start. If course there are holes in server software still, such as Apache, SQL, and SSL.. At least it will be very hard to root the box. With this in mind, I landed on two choices, v880 or v890.. The 890 requires 220v power only to the 880 was the way to go. In very late December of 2011 / Early January of 2012 I picked it up. The image below will take you to that original blog post:
I picked one up and set about setting it up the way I wanted. There were so many options offered for these systems in the day you can almost configure it an infinite number of ways.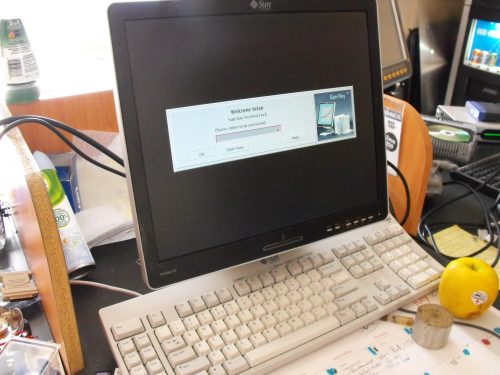 It has served me well over this year so far, playing the roles of all services I need, file storage, web hosting. Even providing a desktop that I can work from anywhere in the world. Using SunRays, a sort of graphical "
Dumb Terminal
" or X terminal I was able to transform my business from using 5 or 6 computers down to one, and a secondary one to handle HD Video Editing tasks.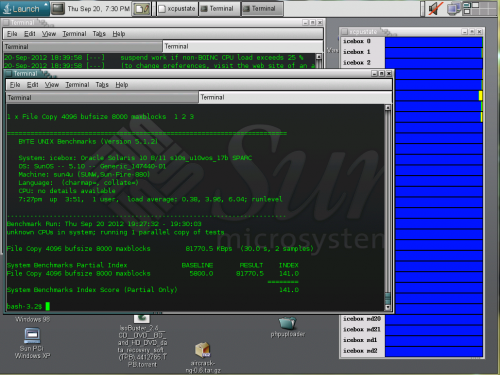 This arrangement has worked awesome. Everything is edited, accessed, and collected into the same place. If I need to find something I definitely do not need to go far. It's so nice being able to mount CD images on the server and share them too. It has really been a bit of an alternate world, where some thing don't work but most things work very well indeed. I am thoroughly satisfied with this setup. I can rest easy knowing that my data is not going anywhere, it can be backed up and distributed any way I please in any instant. Neat. This server is like a brick house, I bet it is still standing and functional in 20 years. – Doogie