Hello all!
As you may or may not have noticed, comments on this site were broken, and now are fixed. Since I have been consistently updating wordpress, but not really wanting to update my theme, comments ended up breaking within the last month or two with the recent updates. At any rate, I have updated the theme to the latest version and now I have comments again. I ended up loosing one thing which was my custom footer, which really isn't a big deal because instead of coding that into the theme itself I really should be using the CSS customize tool within the wordpress admin area. No big deal, I just need to put a little more time into it to make it the way that I want it.
I've been really busy these last couple months, I have been implementing new computer systems at work which has went smoothly. Today (as of me writing this), I have finished the 2nd of 7 clinics. I will be heading back to Colorado on the 11th of October and staying through Halloween, at which point I will be heading back to do lots more work to complete the implementation at the remainder of the clinics, work on more car stuff, and expand onwards from there.
New Corrado!
That's right. I have added another car to my VW Family. Introducing to you another 1990 Corrado G60. This was owned my a member of the IRC Chat, and I made a special trip to Michigan to pick it up. I got it for a really good price and it is in fantastic shape. It does need a bit of work, such as some seatbelt parts, a replacement fuel pump, and a replacement timing belt for the supercharger. Really though, it's not only all there, it's unmolestered. Which is nice. I have been wanting to keep this car 100% stock but I have already had the itch to remove the G60 power plant in favor of something a little bit better. I guess it just depends on what I want to do with the car. Do I want to drive it every day? If so, I'm seriously looking into installing a TDI swap. I have the GTI now which is a fantastic daily driver car, and I've done so much work to it already it's difficult to let it go. So many decisions to make. I'm going to have to think about this one for a while, and I do have some time. The car is going to stay here in North Carolina for now and upon my return it shall receive some much needed love. It will be wonderful to hear it run again after being quiet for more than 4 years. Here are some Pictures: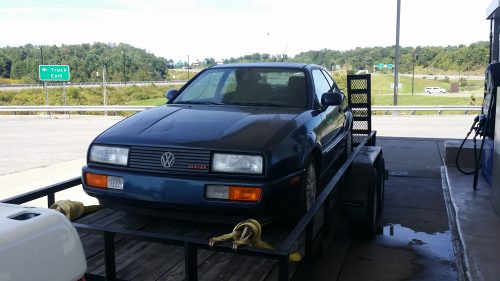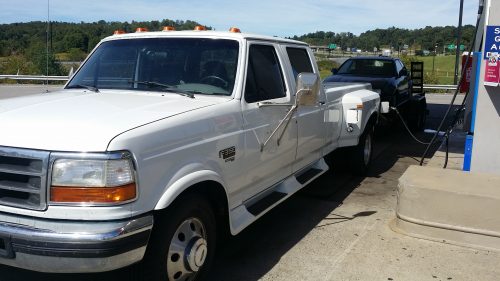 Black Corrado Parts!
Since I have been away from the Black Corrado that has been a steady project for 10 years now, I have been purchasing a constant stream of parts that I've managed to locate online for it. I now have all the rubber seals in the car that needed replacing, which means that the weather will stay out for years to come. I have also ordered close to $1000 in custom / made to order aftermarket parts that simply might not be available for purchase much longer, which makes me super glad that I was able to obtain them before they disappeared. The parts I got compliment the car nicely, and I was able to locate some factory parts in the UK, and had them shipped over. I am most excited about these pieces and the biggest change to the car will be that it receives Its long awaited replacement windshield. It actually has needed one since I purchased the car in 2003, and I'm excited that it'll finally be receiving one. I even have the appropriate seals and molding from VW that go with it.
I made a clock 😀
In the spirit of Ahmed Mohamed's home built clock I have decided to create a clock of my own. I bread boarded up a circuit using a PIC16F648 micro controller along with a 32KHz crystal, a 595 shift register, and an LED matrix display that was given to me by my good friend Josh (Nighwolf in the IRC). It was fun to build a clock completely from scratch and write code for it. I was even able to code a functional settable alarm. I am actually translating this into a project where I am going to build a filament clock similar to the one that I had seen on Mike's Electric Stuff's YouTube channel. I have purchased 42 of the LED filament pieces from China and some drivers and a power supply required for the project. Look out for more on that in the near future: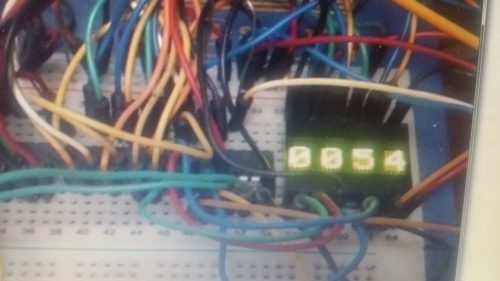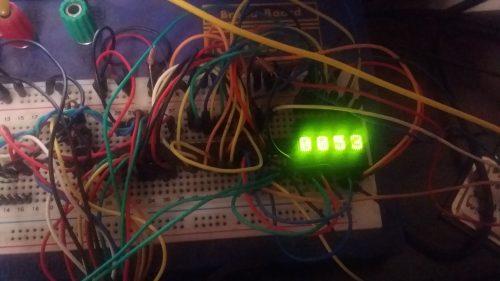 Retro Computer goodness:
There is a shitload of retro computer related goodies awaiting my return in Colorado. I have so many things to do along that front it's going to make a great series of videos. Everything from fixing the issue with the G5 quad and the SSD Errors, to installing a microchannel network card into my IBM P70 which will enable me to use it as an IRC terminal. I also have something for the Omnibook, as well as at least two new laptops to add to the collection. I will also be changing out processors in the G5 quad to the good set, since it has proven Its dependability in the leak free department, at least I hope so! Seriously though, temperatures have been okay, and the pump deserves a much needed break, since the overheating processor has caused the fans and pump to continuously run on high since I left the machine running a few months ago.
The Sparcy IRC server has proven to be reliable as well, chugging away and providing the backup IRC channel to the main @ irc.doogielabs.com . . We have been int he room #doogielabs. This IRC server I do believe will also get moved to an alternate location, like what it was originally intended to be. There will also be a video made about this machine, and much more. There is so much in the way of videos, between that and the time I will spend working on everything I seriously wonder if I'll have enough time to get it all completed. I'm going to be seriously busy playing with stuff.
I have also found something that is a bit of a treasure out here in North Carolina, an ADM-3A terminal from 1978. I rescued it from an old factory my boss had just purchased and started to clean it up and restore it. It still works!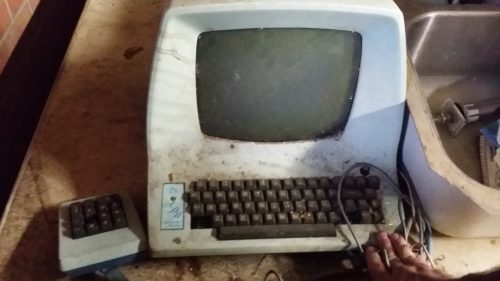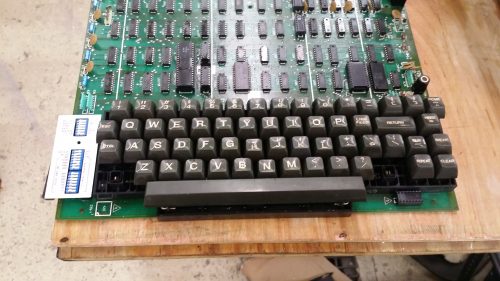 It's a dumb terminal thats built from discrete logic, so there isn't actually a micro controller or processor in this bad boy. Pretty Neat. Here's also another thing I acquired out here that you'll see more details on later.. (Hint: It's a Unisys!)