So I got a new bike..
I put my stereo up for sale on Craigslist, and was offered the below as a trade. This picture is the original cell phone picture taken by the previous owner. After doing some quick research I decided to go for it and snagged a truck to pick it up.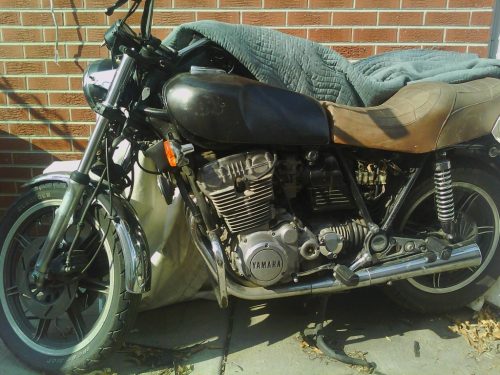 Displacement:
826.00 ccm (50.40 cubic inches)
Engine type:
In-line three, four-stroke
Power:
79.00 HP (57.7 kW)) @ 8500 RPM
Top speed:
196.0 km/h (121.8 mph)
Compression:
9.2:1
Bore x stroke:
71.5 x 68.6 mm (2.8 x 2.7 inches)
Valves per cylinder:
2
Fuel control:
DOHC
Cooling system:
Air
Gearbox:
5-speed
Transmission type,
final drive:
Shaft drive (cardan)
I rode it around a couple of times before starting work on it. This particular bike runs really awesome, we were pleasantly surprised how fresh the carbs were, how easy it starts for being as old as it is. (although the electric starter needs some TLC)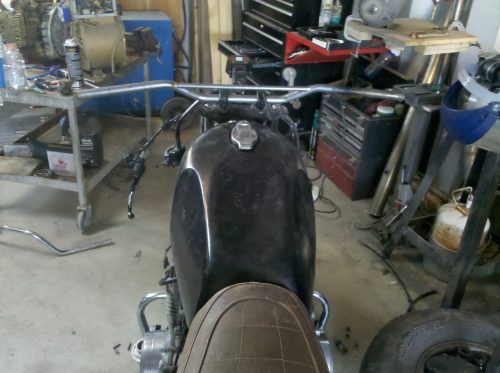 I started with the handlebars, I found some in the car pen that were bent and from a dirtbike. This was an improvement, but still not what I was looking for. After carefully cutting up the factory handlebars I had something mocked up: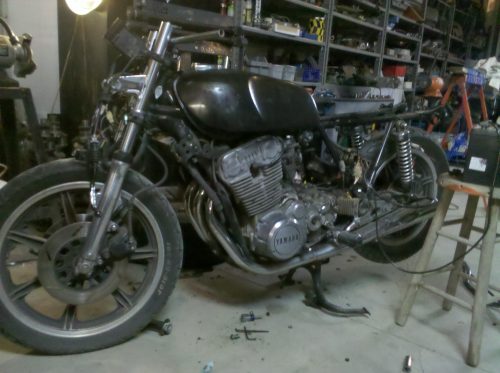 You may also note that some stuff has started to disappear from the bike. The handlebars I mocked up allowed me to lower the front of the bike 5 inches. Now it was starting to transform, it no longer looks like the bike it originally was.
I am not sure at this point how "minimalist" stuff will be in the way of turn signals. At the very least there will be a headlight and a brake light. I wasn't a fan of the mirrors either, I am currently in search of something a little more aerodynamic like here: http://cgi.ebay.com/ws/eBayISAPI.dll?ViewItem&item=170885868646
The headlight will be a 35w HID lamp, any stop and turn signals will be LED. I will either custom make something or find something that is quality and in good taste. The switches / electrics are in okay shape. Definitely grimey from 30,000 miles and 30 years of wear. A complete re-wire is in order, I will still use some of the handlebar electrics negating the turn signals and highbeam switch completely on the left handlebar if I decide not use them. The ignition switch is being moved from up in the handlebar area to down underneath the seat or on the side. I am keeping the same ignition switch but mounting it so the keyhole is flush with whatever I end up filling the area with. I am looking into different mesh solutions. I made one up just to see how it looks, I think that it turned out pretty good: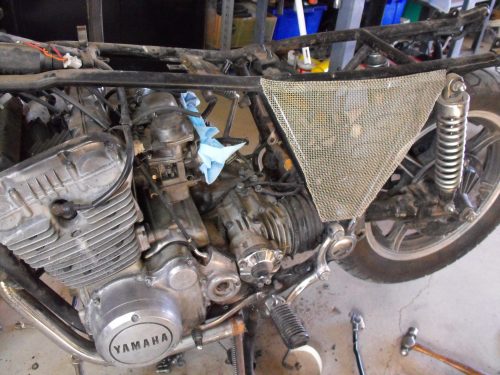 It actually looks pretty good in person, better than what the pictures make it out to be I think. I have decided it's too simple. I want to make the mesh smaller so it sits between the bars, so that way the frame of the bike is an exposed exoskeleton. I also wanted a fine mesh but thicker? Maybe even an aluminum plate, we'll see next time I go up.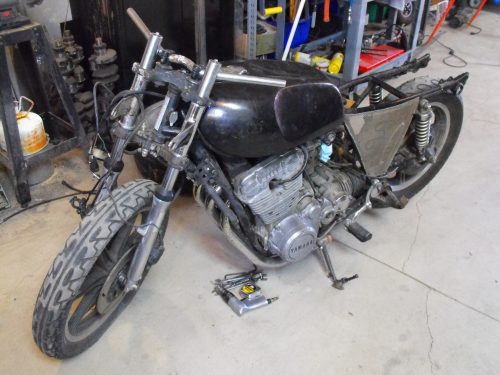 The above shows what it looks like as of 10/22/12. With the camera back up a little bit you can see the mesh contour with the frame. You can see the little hump in the center of the handlebars and that the exhaust has been cut at the correct length to start making up the new muffler.The seat will never see this bike again, the gas tank and headlight are the only things that will be retained and left relatively stock in appearance. I have some dent repair to do on the gas tank, the kick stand needs to be shortened some more, and a few other things.
So far my total project is $0 including the cost of the bike, so we'll see what the total build tally ends up being.