Oh boy has it been a long time!
One thing leads to another and in short I have been busy. A month went by like it's nothing, man don't blink or you'll miss summer!
Anyways, lots of loose ends need tied up I have a few things that I'm trying to get posted at the same time. I have been parting my Passat I have and going to Bandimere for some drag racing fun.. . I have also been doing a little bit with electronics, and when I can, working on setting up the VGT for the Corrado.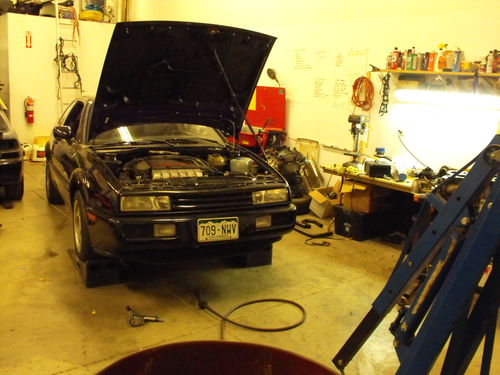 An inexpensive mild steel solution is going to complicate things, I am quoting a place to build me a stainless turbo manifold, I'm disappointed that I don't have a TIG to do one on my own.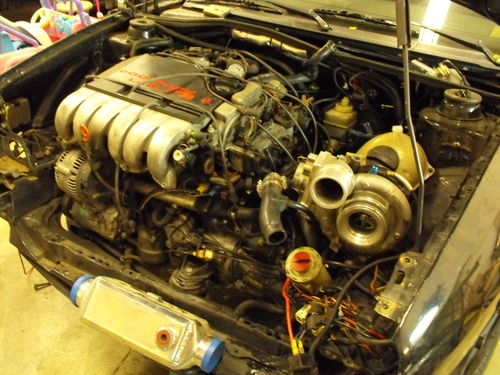 The engine is on its way out and the mockup stuff is going to be installed. The washer fluid reservoir will need to be re-located from the looks of it, and I'm also losing the coolant golfball and a few other engine bay accessories.
I also managed to invent a little something over the last month as well. I have has consistent issues with my phone overheating while charging it and using it in conjunction with a bluetooth headset. The phone would stop charging and eventually die then I would have to wait for it to charge back up quite a little bit before I could use it again. So I went to the drawing board on building a cooler for my phone.
I originally go the idea when I realized that the phone sitting in my window sill on a cool winter day would charge really fast even though I was using it. When I got the shop, and a hotter environment that the phone sat it the same problem seemed to persist. With just a fan blowing over it, the phone still got quite warm (the battery in particular) and seemed to work okay.
The problem with just a fan like these laptop chill pads I see is that the air is the same temp as the ambient air around it, so its efficiency is greatly based on ambient air temperature. I started looking into using a peltier cooler to sink some of the heat from my phone, so I purchased some parts and came up with a prototype: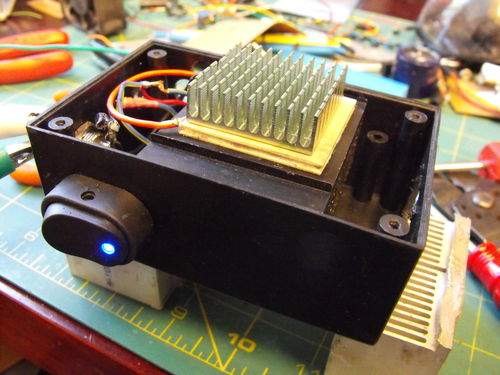 Basically the box has an aluminum top that is chilled by the peltier cooler, then the heat is dissipated through the sides via a fan that draws air in from the bottom: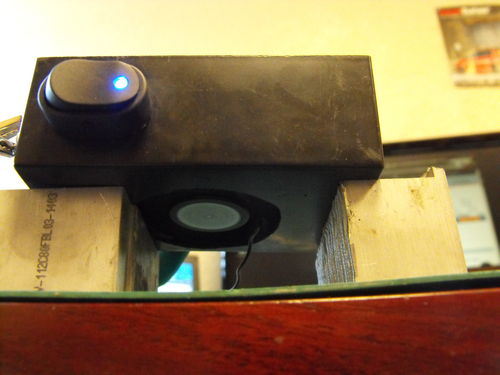 The first box was partially constructed of left over parts from other cooler experimentation projects, and I learned quickly that sizing the cooler was a task requiring some precision, so I sat down and looked at my options and ordered some coolers I felt would be the right fit for the job.
Here is a view of the top of the box, I ordered both large and smaller boxes for different sizes of phones: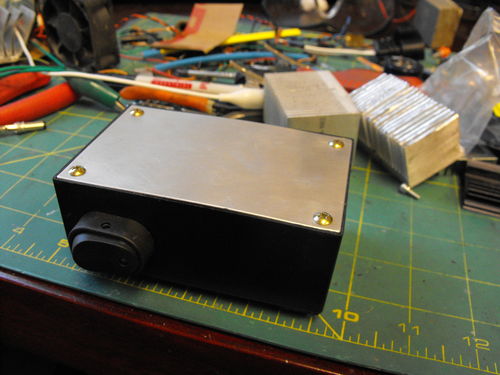 When the smaller sized coolers arrived the installation results were great, I am able to keep the aluminum at a temperature of about 40* in a 85 + degree room. Tests showed the phone battery charged in a little longer than the standard 2 hour fast charge rate, while using it!
I have heard android owners complain of how hot their phone gets, hopefully this will be a great solution for them!
There is more testing, I am hoping to have a built unit or two up for sale if someone is interested in purchasing a prototype. If you do purchase one now and I come up with an uber cool updated version, I will be sure and include a $25 off coupon good for the upgrade (or maybe even more off)
Few days later update: So after testing it for a few days the battery charges great, but when I pick up the phone and hold it, the top side is still hot from the radio hardware / processor working. This could mean that it would still be a hot phone for many other users as well. Looking into a way to pass cool air over the entire body of the phone.
Some other things that are going to be included:
– Has a 3amp USB charging port, so basically uber fast charging for you, just like it was plugged into a car charger.
– 12volts input for use in automobiles, boats, or anywhere else you have 12 volts and find yourself in the sun.
I'm also looking into ways to manufacture them in volume to reduce overall price of the product to the consumer.
What else have I been upto? Well, I helped my buddy tune his AEM management for power. He finished up his EGT gauge and is still tying up some other loose ends but this car gets down. I have always done base and street tunes in the past, never a full tune for power, after unleashing the beast of timing this motor screams. We are going to get some dyno time on this bad boy in the next couple of weeks so definitely be looking for a video coming soon.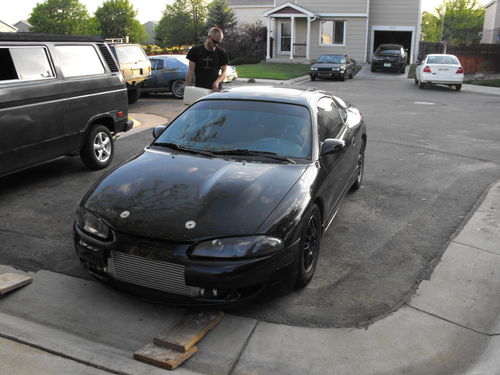 7 Bolt DSM bored .040 over, Aries Pistons, Eagle Rods, 1G head swap, Holset HX35 turbocharger, 268 cams, AEM standalone, and a few more things 😉 .
I am not personally a big DSM fan, but as any car enthusiast should, it has a place in my heart for big power out of a small package. (Maybe that's not as prominent with Honda, but hey)
More Car Show Pictures!
I went to the Street Tuner Mayhem show and race at Bandimere Speedway, it was a blast there was lots of cool setups. I took some photos and made a video of some racing action that went on that day click on the 2011 Street Tuner Mayhem link in the gallery menu at the top of the page.
I also raced my Corrado at the dragstrip for the first time ever in the 7 years I've owned the car! Pretty crazy to think about that I love racing as much as I do but yet I've never actually raced my car. I am doing the turbocharger and stuff on it why not get a baseline right? It's always fun to see where you start and reflect on how much one has improved their time.
The car weighed in at 2620Lbs with me in it, and no seats & subs other than the driver's seat of course. Because the VSS input was not hooked back into the ECU I wasn't able to spend more than three or so seconds over 5,000revs or the engine would cut out until I reduced engine speed. I was able to rip 1st and 2nd gear to redline, however any other gear I had to shift too early. You can tell in the videos that the car just "runs out of steam" at the end of the track. Either way, megasquirt and a turbocharger are going to fix that.
Click on the pic below for the page for the 2011 KBPI Carshow, there was some great cars out there this year!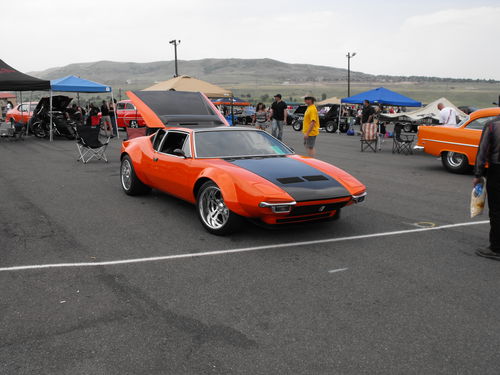 More computer stuff
The server has been holding up good too, I have been using it to capture all the video from my DV handycam and prepare it for editing. I could edit it on here if I wanted to but I have much better software that I can use on my thinkpad that doesnt hang or crash.
The old server does good, the hardware seems to be just enough. Interestingly enough the PATA hard drive would drop video frames if I tried to use it as a disk to capture the DV video to, so I ended up using the SATA raid for storage and it worked wonderfully with zero dropped frames.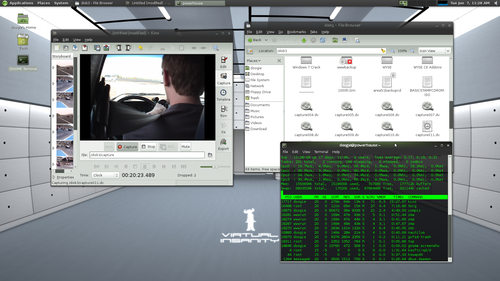 Thanks to dirty power from thunderstorms I lost my awesome server uptime, I still haven't beat the record of over 225+ Days from my old DEC Alpha server, but 125 days is not too bad either, for a server kept in the middle of a living room 😉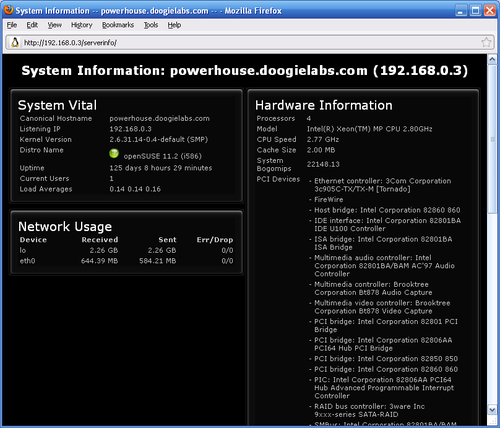 Its getting a little crowded drive space wise however, I'm thinking its just about time for an upgrade.

Website update stuff
So you may or may not have noticed the banner graphic up top is a real graphic and not text? well that's one change I've made, I don't think it looks too bad either.
I have also added a couple of carshow galleries, updated the latest mileage on the Vanagon page, and have made some progress on other DoogieLabs project pages that haven't been posted yet.
I also enabled page ratings and comments site wide. You can now comment on news posts and any other DoogieLabs page. I don't really like how the news / blog comments pages work, this is mainly intended for the project pages, etc. So discussions can be held on the page's topic.
Was that all? No, but there is enough here that I can at least post the first part, and get to the 2nd part later.