Welcome and for those are read the site, thankyou! It's really all of you that keep me going. I could pack all this in and go to work at a regular place and do the bare minimum for only self benefit but where does the rest of the world benefit from that? It doesn't! My learning, sharing and creating an environment to learn and share together is the drive that keeps me here. Times are tough, and it helps to hear the feedback on how you feel. Have I made a difference? Who knows.
I have been neglecting projects and blogs lately for doing work at the lab, and now realize that I shouldn't be doing that. Both really need an equal share for me to succeed in my goal. I cannot just work and not show what I'm doing and that bothers me. There are going to be a few changes in hopes that I am able to make a difference in the quality and frequency that I'm able to deliver content to you.
Hangouts: I have a lot of people that both participate in, and watch the hangouts on a regular basis. To a point as of lately this has been all the content that has been posted on the YouTube channel. This is unacceptable for a direction that I've wanted to take on the channel, as I really want to have both. Due to circumstances of the current situation, I'm going to eliminate the hangouts for a while, it'll probably end up a once a month thing but the amount of time spent on it really needs to go into something like video editing.
Given the balance of internet time I'm going to need to transition from lab work right at 6pm into the other things I want to do for the evening or I'm never going to get anything done that I want to get done.
Laptop Battery Update:
The replacement battery I have purchased for my think pad has been .. Okay. I don't like Chinese batteries for sure. It's interesting that sometimes they work good but the overall quality is inconsistent to say the least. I have since been able to charge the battery to 100% and it actually stop charging. One thing is for certain, in the future I will rebuild the stock battery pack with cells of my choosing.
Server News:
I started this post almost a month ago, and forgot what server news there was going to be. I had been working on getting debian tuned and running on my v240 but then we had fire in a high voltage. I haven't touched the server since and have been insanely busy with the cleanup. I ended up cleaning out my server in the downstairs NOC as it was completely suited up. What a giant pain in my ass that has been, but it has been interesting as a learning experience. As far as Debian goes, I have successfully custom compiled the latest kernel and booted it, but messed up the next one that I had stripped down even further. So, when I get time to do that again hopefully I will have that sorted out. I have also had trouble compiling zfs on Linux, the default package does work with Debian, but isn't as new of a version as the one that is installed on my Solaris 10 box so I cannot import my v880 raidz2 pool into the Debian box, unless the Debian box has an equal or newer version installed.
I would love to build or get ahold of an ARM server in the new future. I think I could do a lot of with one of those, the processors these days seem to be quite powerful. If anyone has a lead on these please let me know.
The Fire in HV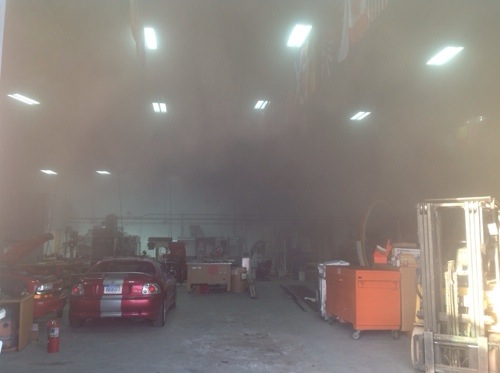 For those that don't know we had a fire in high voltage, and it really messed everything up. The high voltage lab is almost a total loss, as the carbonized soot has clogged up everything, carbon soot and high voltage doesn't mix well at all. There is a thin layer of coating on everything inside the building and every surface must be cleaned. The networking and server gear collected a large amount, and I spent much time cleaning that up.
Thanks for all your kind words and support as we have been working to get things cleaned up. There will be more blog footage up here within the next few days.