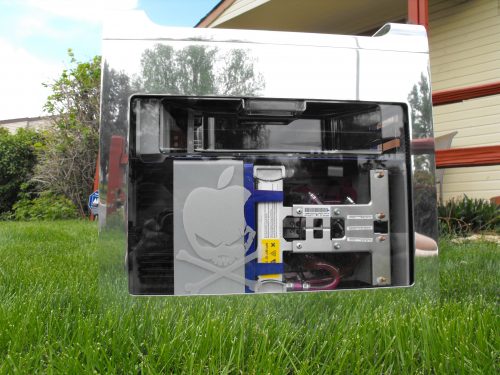 The new server hosting DoogieLabs.com — Click for the new G5 Quad page —
So, this site has been a bit dormant lately. Not to worry folks! It's not going anywhere. I am now on a new server, one I've dreamed of having for a very long time and now it's finally here and "almost" sorted. I will actually be leaving the server running on a processor that is starting to go bad, at which point once I return I will replace the processor with a good one. I'm hoping for the duration that I'm gone the processor holds out. I already actually have a good set of working CPUs still attached to their factory not leaking LCS, however I have decided to hang onto these as spares since I know they're specifically good and track down another set of good CPUs. It's some back asswards logic I know, but this allows me to secure two completely good working not fabusted CPUs, at least I hope. The other quirk is the PATA SSD I have decided to use does not support Ultra DMA Mode. This has rather upset the IDE bus in the G5 Quad, and this is another issue that must be resolved immediately once I return, as if the system hangs for is forced to be rebooted for any reason a full system hang could occur and the e2fs on the flash disk can become corrupt. For now at least, I'm placing my hopes in that the water cooling system holds out, the CPU doesn't die, and the system above all else doesn't have to reboot for any reason over the next months that I am gone. ha. It has a nice 2KVA ups with a new set of batteries attached to it thanks to the wonderful supporters of DoogieLabs. As long as the kernel and cpu remain stable I don't foersee any problems. It'll be an interesting experiment indeed. The dual is still here and will be on standby as a backup system.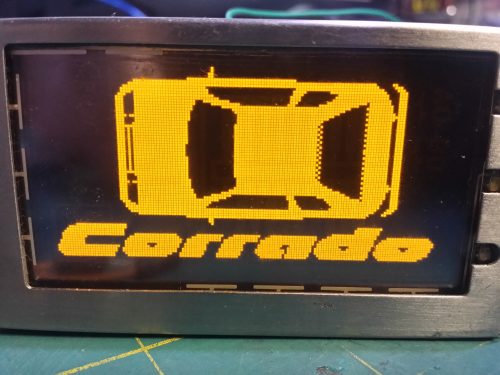 I'll be heading out on Monday, fand with it much will be left unfinished as time, and life in the short time I've been back has been packed with activity and creating projects. The main focus of my time when I return to Colorado will be the Corrado, as I will also be working on that for a good deal of time even whilst I'm away. I still have a bunch of video to edit from my first time in North Carolina that's just going to have to wait. The Hot Rod camper build episodes will be released together it looks like. Much of the Corrado stuff will be as well. I have taken a bunch of footage from when I was working on the car the last couple of months, including dynamatting the floor and firewall. The interior has been restored slightly, with brand new door seals and carpet padding sitting atop the dynamat and closed cell foam. Once I come back, the remainder of the interior shall receive the same treatment. I will also have most of the other parts for the engine, I should actually be able to plumb up the car and fire the engine for the first time in close to 5 years. This time however, it'll have a turbocharger attached to it! I'm going to freshen up the existing motor, and run it without beefy internals for a while. That's still 500HP, more than enough for front wheel drive. This will allow me time to debug the car's electronics and get a tune setup. This will also allow me to move towards the final two stages of finishing this car once and for all. . Paint&Body, and All Wheel Drive. AWD will come in the form of an 02M 6 speed and haldex attached to a fully forged 2.8 12V. At that time, it'll be attached to a VGT turbocharger or something a little bit larger than what I have now. That's when we'll be talking 750 AWHP. once that's installed and the car is painted the car is done. I started this phase of the project around 2010 – 2011, and it'll potentially take another 5 years to see it through. The interior design has come along incredibly well. For the first time ever I have a working touch screen interface just about ready to go into the dashboard. I have already installed two of the three servo on the heaterbox, and I have one more to go which will be of retaliative ease. Here are some photos of the touch screen interface. The heater controls and buttons are pretty finalized and will be in the final car. I haven't decided if I should keep the window buttons in the center on the touch screen or leave the buttons on the doors. I will be playing with different concepts over the next couple months while i design and finalize the electronics for them. Once I get back, the plan is to get them installed along with the 7″ touch screen into the center stack of the dashboard. I want to be able to control the heater servos, and then start get CAN communications up and running.
I wished I could raise the ~$30K to finish this phase and the final two outright all at once. If such a thing happened I could capture the painstaking attention to detail moments on film and release a show along the way. I think it'd be neat way to empower people, show them that an individual with a little electronics and mechanical knowledge can accomplish such a task. It'll be done so well I don't think someone would have a problem paying $100K for the car. It's my personal car and it'll never be for sale, but maybe someone will ask me to build another, and that's the point. I'd love to. I would love to mod old cars in lovingly intricate ways integrating period electronics and the driving experience. Either way, there will be much more on this coming soon. Check back on the live stream and chat room as much of the electronics and software development that has taken place for this car have been done live.
It'll be a hard decision, there are several things that are going to eat into my budget as far as money goes that I'll be collecting on the Corrado. 1st thing is, I no longer have a decent laptop. The fastest laptop I have is a 1.6GHz Core2 machine with 4GB of Ram and a 12″ screen. The machine has Intel Integrated graphics, and cannot come close to editing the footage that my Camcorder records, so I will not be able to edit videos on the go. Once again, I'm left with capturing a bunch of video, saving to a hard drive, and the lugging it back to my corei7 machine in Colorado which will inevitably delay releasing videos anymore. It's been 10 years since I've had a new laptop and as time ticks on I am finding myself with the need more and more to obtain one. A 15″ Macbook configured with the fastest corei7 and 1TB is $3200. I could come up with that in a month easily, but that takes a huge bite out of getting the Corrado done, and I really want to finish it soon. When I buy a laptop, I keep it for years and years, I use the hell out of it, so it's worth getting something cutting edge for me, because I will use it until it dies. The tablet thinkpad is no exception, that 1.6GHz Core2 machine I paid $1K for in 2009. I've had it for a really long time, and it's starting to fall apart. I cannot read the screen outdoors, it's real irritating. With real screen real-estate and power at my disposal, it will really speed the development of things.