Since December of 2009 I have been sharing my thoughts and projects using this website. It has come a super long way. It has become quite an archive of history, knowledge, and my abilities. Thanks for visiting, I hope that the information posted and provided here helps out people in their projects or adventures.
A few days ago I was able to actually find my old DoogieLabs site on the wayback machine!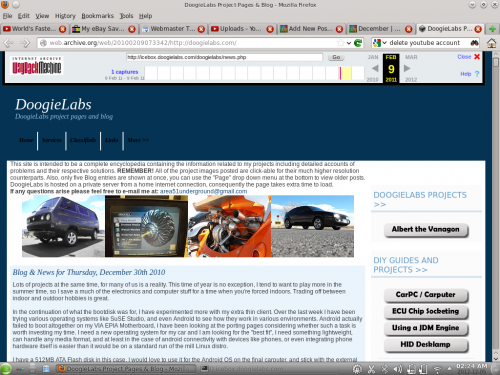 So with what is the 101st post I will give a short update. After moving out from the shop I have finally managed to clean up the basement in my house and can now finish organizing the garage and get back to work on the car projects that are sitting out front of my house. The Red Corrado project continues, I am still awaiting the turbocharger from having the outlet welded on. I cannot wait to see that project running again, such a rare car. Here is a quick clip of downstairs:
While editing some video earlier today, I stumbled upon something I meant to post up but never did. Here is my friend Russ in an 80's Toyota pickup with a Tacoma motor swap and double transfer cases idling up a hill / wall:
I miss the shop, it's much harder to productive and inventive, with everything being in separate places. I need to stick with it for now and things will be better in time.
I have a post coming up about a gas vaporizer, I managed to build one yesterday at the shop out of a Gatorade bottle and some tubing. It was running a 5hp Briggs Horizontal Shaft engine awesome, and I was really surprised at the throttle response as it was no slouch. I will be filming another test as well as a showing the design and discussing my findings here in the next few days.