FULL SERVICE COMPUTER, SERVER AND LAPTOP REPAIR CENTER:
Anything on a desktop, one flat fee of $50, no hourly rates.
Anything on a laptop or server, one flat fee of $70, no hourly rates.
$10 on site service if I drive to you, not required for recycle item pickups.
** Tips are generously appreciated **
I service HP, Acer, Compaq, Apple, IBM, Lenovo, Sun, and many more. This includes SGI and DEC systems depending on one's needs, even vintage hardware! Windows, Mac OS, Linux, Solaris. We can even convert your business away from Microsoft products to free software, saving you a ton of money!
$50 fee includes building custom computers, customers are allowed to watch the assembly of their new machine, and ask questions or even help.
Memory and Hard drive upgrades are $25
Take advantage of online savings, as there are no markups on parts. Service prices listed above do not include parts.
Here are a couple of YouTube videos demonstrating some repairs:


I also service rare and antique computers;

If you are unable to make it to my shop, I'm able to pick up in the Denver Metro area.
RECYCLING:
This is where your old computers and electronics come in, I stockpile these and keep the good components to repair similar units.
I will pay for all electronics, usually by the pound. Special items can be negotiated, and if you have something that needs repaired, I do that too!
Approximately 50% of all old computers will end up in China, and if you haven't seen the vast wastelands created from all this e-Waste Google or YouTube search the movie "manufactured landscapes", this film in a way it has helped inspire the creation of this business.
My goal is receive and repair as many electronics as possible, and eventually allow for a parts selection in creating new projects. One example of such a project would be gutting an old stereo receiver that has a bad screen, putting the amplifier block and power supply sections in a new case, and then resell the unit as an amplifier only, I would like to see all these parts have a new lease on life, keeping them out of the dump. Whatever components are unusable will be sorted carefully and sent to R2 recycling for their final destination in the recycling process.
NEEDED ITEMS:
Computer towers, servers, flat panel monitors (no CRTs, sorry), Flat panel and Plasma TV's, DLP TVs, stereo receivers, DVD players, phones, laser printers, plotters, older industrial equipment, car audio amps, laptop / notebook computers, refrigerators and air conditioners, old spotlights, UPSs (battery backups), Routers, Modems, and much more!
Put it back to good use, back from the grave!
Michael Rick
"Doogie" of DoogieLabs
7203669309, also available via txt even late if emergency
doogielabs @ gmail.com
You can also catch me some days at my shop,
5455 W 59th Ave Unit R
Arvada CO, 80003
You're welcome to come see what we're all about, just shoot me an email or txt and make sure that I'm here at the office. (I also work a FT Help-desk Job to cover the business) I have an extensive background on computer networking, repair, electronics design & repair, small or even larger servers.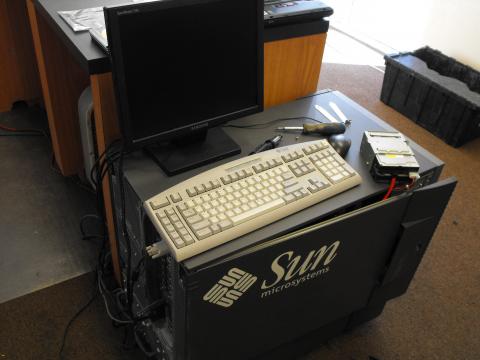 We also do CCTV Camera setups, if you don't have a server we'll build you one, $500 installed (including the cost of the server). Then each camera costs $125 configured and in most cases installed, using your existing wireless network (or we add one). The powerful CCTV software supports motion detection features and an alarm notification, such as via email. This system is incredibly scalable, and can easily be entirely run on backup batteries. Streaming video off site is possible, and can be setup to be viewed anywhere on the internet remotely with a web browser, no additional software or hardware is required.
Thanks for your consideration, and even if you don't go through us please remember to support local small businesses 🙂